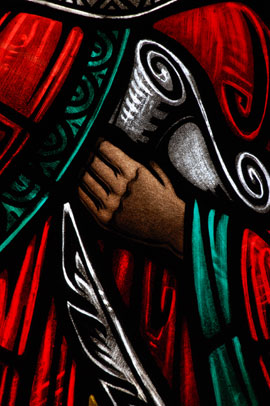 Recently, I've become more and more attracted to the Eastern Orthodox Church view of Scripture, that is, Scripture is a part of Tradition rather than a separate entity from it. Where this differs from the Roman Catholic view is that the RCC sees Scripture and Tradition to be two pillars of the faith.
The questions this creates:
If we see Scripture as part of Tradition, what do we do with individual interpretation? Does it cease to exist?
Also, what do we do with language, historical, and scientific developments? Are they to be ignored if Tradition has yet to deal with them?
How does this handle the idea of experience (as in the Wesleyan belief)?
These are some questions I have for the EOC view. If you are Orthodox, could you assist me with these questions?
The problems this solves:
It seems that the New Testament authors were, at many times, working within a particular interpretive tradition. They would often quote Scripture with no regard for historical context and reinterpret it to prove a specific Christological point. For instance, interact with Matthew's use of Hosea 11. Matthew clearly interprets this to be a futuristic

prediction of Jesus the Messiah. However, Hosea clearly is referring to a past event, that is, exodus, without any futuristic content. Matthew changes the text because

his interpretive tradition, at that time, did so

. Thus, it seems that the EOC continues such a tradition, in that it reads Scripture within a certain tradition rather than separate from it.

The EOC view, also, answers the question I raised before, "How did Christians handle issues of the faith for 300 years or so without a canonized Scripture?" Well, apostolic tradition

, of course.

It also keeps from wild (even unbiblical, unchristian) interpretations since EOC members learn to submit to the authority of the community, the Church.
Lastly (and by no means does this exhaust this section), everyone relies on Tradition, whether they'd like to admit it or not. For instance, rapture theorists rely on a tradition, even though it's only a 200 year-old, American tradition. So, when the question comes, "What does First Thessalonians 4 mean?" These Christians would say, "Well, it's talking about the rapture." But the majority of global Christians would say something else, perhaps like, "Well, Paul is using Caesar language there, making Jesus the 'better Caesar.'" Denial one's own reliance on tradition is naïve. We all do it, at least, the EOC admits it.
I would like to hear what people have to say about this, especially, those of you from the RCC or EOC, though I'd love to hear from you, Protestants, too. If you could offer some insight, please comment below.